Montanaa Who?
Repping the Carolinas, standing at 5-9, 160lbs, this somewhat cocky darkskinned guy we call Montanaa has rose to fan stardom. Brandishing 9 thick inches between his legs, hes a skilled top. We learned a few things about Montanaa including the fact that hes a DICK SUCKING LOVER!
Oh, you've seen him throat some meat better than some bottoms. 😌 Look no further than some of the video clips below.
Check out his Interview
---
Newest Flick starring the Cartel Boss
The newest release from Black Rayne Productions is sure to be a banger! This sexy steamy long dicking features the beautiful, sexy and deep hole of Rico Pruitt, known for his many roles in online mini series. Whats sexy without the chocolate. Montanaa was more than willing to lend a hand, his dick and his nutt to welcome Rico into the breed.
We started early and the chemistry was already electric. I could see during the photo sessions that the fucking was gonna be organic, raw and satisfying. After a bottle of HENNY;(Rico can drink his ass off) yup a whole damn bottle, and a few blunts there was nothing to do but start rolling the camera.
Climbing Montanaa- Video Preview
---
Montanaa Shows Off His Throat Skills
Take us back to RawCityTwinks Boot Camp 2019 and we can see how much Montanaa loves sucking a dick. Top dick, bottom dick, vers dick, DICK IS DICK and if it's big, meaty and juicy, Montanaa may wanna take a lick or two. 😬
---
His Road to Fandom
Preview some of Montanaa's most talked about shoots. What do the fans say about him?
Motorsports: feat. Holliwud
Pushing a dope ride, Montanaa challenges Holliwud to a card game a the park. WINNER TAKES EVERYTHING. And it started before the left the damn park. Montanaa was wanting to taste some dick and Holliwud wanted to feel his meat in his hole. Lets see who won the fight!
---
Dug Out: feat. J Kream
Along black thick dick for J Kream. Montanaa loves a soft booty and J Kream delivered that flawlessly. Montanaa fucks J in every way possible, ending with his hot spewing load all over J's back. He gets DUG the FUCK OUT!
---
Suck a Dick or Summin: feat. Hakunabad, Kyd Foster + Rodney Lamar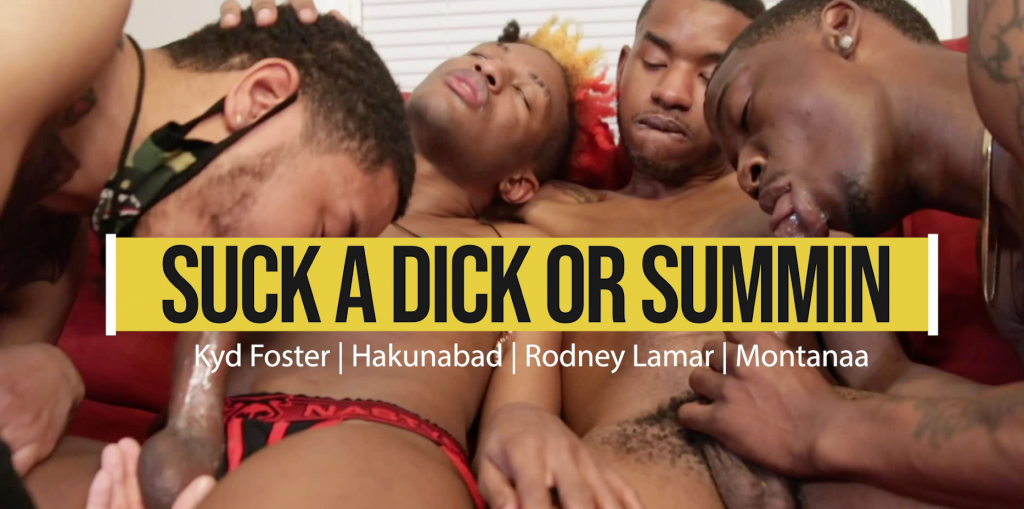 Two is company but 4 is a treat! Montanaa stars alongside newbie Rodney Lamar as they fuck and get sucked by nasty pretty boy Kyd Foster and rising star Hakunabad. This is a banga!
Tops sucking dick, bottoms eating ass, the kind of party you dont wanna be just a fly on the wall for. Favorite part is in the preview below. Kyd Foster takes 3 creamy nutts to the face. The Montanaa way!